Reading time ( words)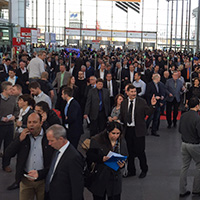 If you didn't make it to Munich for productronica 2015, don't worry. I-Connect007 has complete coverage of this long-running industry event at our RealTime with... show site.
About 38,000 visitors from around the world helped celebrate the 40th anniversary of productronica, and show managers say the share of Asian attendees rose "considerably" this year. And 97% of visitors rated productronica "good" to "excellent," according to reports.
"During the past four days of the fair, we have experienced the industry's unbelievable innovative strength," said Falk Senger, managing director of Messe München. "That underscores productronica's position as an international industry gathering for electronics development and production."
This year's show also marked a first: The launch of the productronica Innovation Awards. A panel of judges chose the most innovative products from almost 70 entries. Winners included Fuji Machine (PCB & EMS), Rehm Thermal (SMT), F&K Delvotec (Semiconductors), Schleuniger (Cables, Coils & Hybrids), and Asys (Future Markets).
Thanks to our generous sponsors, the I-Connect007 team was available to cover the show from start to finish. The result? A total of 18 in-depth RealTime with…productronica video interviews with the industry's top engineers, technologists, and managers, along with 126 photos of the event.
We'll also be bringing you written interviews with these movers and shakers in the next few months, courtesy of The PCB Magazine, SMT Magazine, and The PCB Design Magazine.
So, if you didn't make it across the pond last week, don't despair. We have you covered. To view I-Connect007's video coverage of productronica 2015, click here.
Share
Suggested Items
09/01/2023 | Barry Matties, I-Connect007
In this interview, IPS President Mike Brask shares some insights about the company's latest automated ENIG line installed at SEL's new $100 million PCB facility in Moscow, Idaho. As Mike explains, this line features quite a few innovations not usually seen in North America.
07/17/2023 | Nolan Johnson, I-Connect007
On July 13, 2023, American Standard Circuits announced the acquisition of Sunstone Circuits. I-Connect007's Nolan Johnson connected with ASC CEO Anaya Vardya and Sunstone Vice President and General Manager Matt Stevenson to discuss this new partnership. They detail what the partnership means for each facility, how it affects management, sales, and suppliers, but mostly what the new benefits for customers.
04/24/2023 | Dan Feinberg, I-Connect007
The use of AI in the music industry seems only natural. For example, if you're trying to create a specific sound, rhythm, mix of instruments, or volume level, you'd typically be in front of a series of mixers and controls, making tweaks and adjustments. If you're trying to create a piece of music that is similar to one you already have, AI can do that for you. Just give it some basic instructions and let it go to work.