Reading time ( words)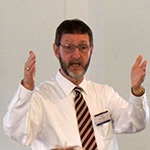 Rick Hartley's presentation on the design of power distribution and decoupling was the top rated session at PCB West 2015.
Hartley drew wide acclaim from the attendees in his class, scoring a 9.75 rating out of a possible 10 from the 52 evaluations returned. One hundred percent of attendees also rated the class either extremely relevant or relevant.
"I had an epiphany about my current project in the middle of this class!" said one respondent. Another added, "Rick's classes are always amazing!" Hartley received raves as a "great speaker" and a "very passionate instructor."
PCB West 2015 was held in September in Santa Clara, California. The event included a three-day technical conference and one-day exhibition at the Santa Clara Convention Center. The show attracted more than 1,900 attendees from the PCB, HDI, electronics assembly and circuit board test markets.
Next year's event takes place the Sept. 13-15 at the Santa Clara Convention Center and will mark the 25th anniversary of PCB West.
Share
Suggested Items
03/23/2023 | Kelly Dack, CID+
Filbert Arzola of Raytheon Intelligence & Space taught a Professional Development course at IPC APEX EXPO on general design practices. During a break, Filbert spoke with Kelly Dack about some of today's design strategies and how designers are reacting to them. What matters most?
12/29/2022 | Andy Shaughnessy, Design007 Magazine
Jim van den Hogen has been teaching PCB designers and design engineers about fabrication processes for decades. Twenty years ago, I had the opportunity to see a class of his at PCB West; even back then, the room was jammed with designers eager to learn more about DFM techniques. Now Jim is bringing his teaching expertise to IPC APEX EXPO 2023 this January with a similar class directed at PCB designers. I asked Jim to give us a sneak peek into his curriculum and to share what he hopes attendees will take away from his class, as well as his thoughts on how to best bridge the gap between design and fabrication.
08/11/2022 | Andy Shaughnessy, Design007
I-Connect007 columnist John Watson is teaching an introductory class on PCB design at Palomar College this fall, but this is much more than a basic design class. But John has hit a slight snafu: He needs a few more students to sign up before Aug. 23, or the class will be cancelled. It's an online class, so you don't have to live in San Diego to attend. In this interview, John talks about the genesis for the class and its benefits.