Reading time ( words)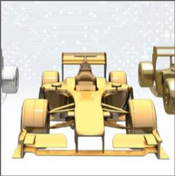 The predominant surface finishes being specified for automotive electronics—one of the fastest growing electronics market segments— are immersion silver, OSP, and immersion tin. Each is selected to meet critical application demands.
Remember the good ol' days when hot air solder leveling was the go-to surface finish for almost all applications? The decision about surface finish was an easy one. The primary function of the surface finish was to protect the copper from oxidation prior to assembly. Wow, have things changed! Today's expectations include: superior solderability, contact performance, wire bondability, corrosion and thermal resistance, extended end-use life, and of course, all at a low cost. Common surface finishes now include HASL, both leaded and lead-free, OSP, immersion tin, immersion silver, ENIG and ENEPIG. Unfortunately, there is no one-size-fits-all surface finish that fulfills all the requirements in the industry; the decision really depends on your specific application and design. With over 100 different PCBs in a typical vehicle and designs ranging from heavy copper, rigid boards
to flexible circuits, automotive electronics clearly demonstrates the need to utilize multiple surface finish options.
Recently, Elizabeth Foradori and I sat down with OEM/Assembly Specialist Robyn Hanson of MacDermid Electronic Solutions to learn about the key considerations for final surface finish choice and the cautions of each from the OEM or assembly perspective. To listen to the discussion, click here. For a concise list of the pros and cons of each finish, click here. Following are some of the highlights.
Considerations for Surface Finish Choice: Does the application require lead or lead-free assembly? Will the end environment have extreme temperatures or humidity concerns? What shelf life is needed, and will it be months or years? Does the design have fine-pitch components? Is this an RF or highfrequency application? Will probeability be required for testing? Is thermal resistance or shock and drop resistance required?
Once these questions are answered, the surface finish options can be reviewed to find the best fit.
Editor's note: This aticle originally appeared in the September 2015 issue of The PCB Magazine.
Share
Suggested Items
07/12/2023 | Barry Matties, I-Connect007
Jeff De Serrano, president of PCB Technologies North America, gives an update on the company's recent move into advanced packaging—a move that stemmed from company leadership and vision for the future. He also shares his forecast on the PCB market, specifically around rigid-flex, along with some of the challenges the industry still faces.
06/30/2023 | Nolan Johnson, I-Connect007
It's a heady time here in the U.S. between the summer holidays of Memorial Day (last Monday in May) and Independence Day (July 4). This four-week period straddles the Northern solstice, boasts the longest days of the year in the Northern Hemisphere. This is the high season for outside activities, which may be pulling you away from the office. Am I right? Never fear, I-Connect007 is here to deliver the "must know" news stories.
06/29/2023 | Barry Matties, I-Connect007
During the recent IEEE IMS2023 Exhibition in San Diego, we caught up with James Hofer, general manager of Accurate Circuit Engineering (ACE). The company is a prototype manufacturer of bare printed circuit boards that specializes in high-mix, low volume with an emphasis on RF, microwave, and antennas. A few years ago, we talked to James about the over-materialization of boards. In this recent discussion, we wanted to know if anything has changed regarding materials and approach. James also shares his thoughts on the changes in the design community.