Reading time ( words)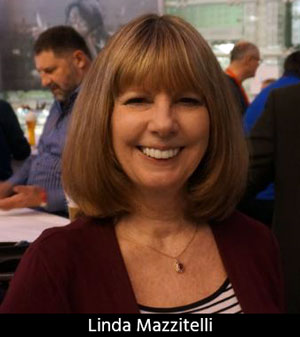 At AltiumLive Munich, I ran into Linda Mazzitelli of PTC. Linda has worn a lot of hats in the PCB design world—she's even married to a designer. I asked Linda to discuss her current work at PTC and the apparent convergence of ECAD and MCAD, which many think has been a long time coming for this industry.
Andy Shaughnessy: Can you start by telling us about what you're doing with PTC and the collaboration with XPLM?
Linda Mazzitelli: Sure. I'm the product manager at PTC for the PLM segment focused on ECAD integration and partner relationships. It's my job to make sure that our ECAD tools have a good strategy going forward, whether that's internal or dealing with partners to help supplement our existing product line.
Shaughnessy: PLM refers to product life cycle management tools, right?
Mazzitelli: Right, so we're actually partnering with Altium directly on an integration to our PLM product, which is Windchill, and we're partnering with XPLM for any of the integrations that Altium does not want to do directly. For example, the integration from Altium's Nexus to Windchill will be done by Altium, and any direct connection without Nexus will be done by XPLM.
Shaughnessy: I heard that PTC recently got some serious financial backing. You all must be on the right track.
Mazzitelli: Rockwell and PTC entered into a strategic alliance that leverages both companies resources, technologies, industry expertise and market presence. As part of the strategic alliance, Rockwell made a $1 billion equity investment in PTC.
Shaughnessy: They're serious about it! A billion dollars is good to have on hand. PTC has always had really interesting tools, like Windchill and Creo.
Mazzitelli: And Navigate. We have a lot of tools now that also focus on AR, augmented reality, and where that comes into play is that it enables a new way for engineers to collaborate across the value chain on any device.
Shaughnessy: AR is really blowing up now. Now, in your previous life, you were a PCB designer, and you still know something about design.
Mazzitelli: Yes.
Shaughnessy: You were saying that you worked with some of the tools decades ago that have since been bought up by some of the big companies. How did you start as a designer?
Mazzitelli: As we all did, out of college I didn't know what I wanted to do, and there was a company that was hiring. I went through a recruiter, and I was heavy in math skills when I was in college, so he suggested I apply for a design job. I had no idea what PCB design was. I sat down, they asked me a few questions, put a test in front of me and said, "Take this test." I handed in the test, walked out, and said, "I'm never going to get this job." By the time I got home, my phone was ringing, and they had an offer for me from a company called Algorex, which was the precursor to Applicon. I worked for them for about four years, and then I started designing with Racal-Redac, Cadnetix, CADAM Prance and several other tools. From there, I went to work for Daisy Systems as an application engineer, doing demos and showing people how to use the tools in their own environment..
Shaughnessy: A lot of designers look back and say, "Those were the golden years."
Mazzitelli: They were. Then, Daisy bought Cadnetix and eventually went out of business, so I went over to Cadence Design Systems where I was a field AE for them. I eventually became a product manager over there and then left and worked for VeriBest for a time. So, I've been at several EDA vendors and ended up at PTC about six and a half years ago.
Shaughnessy: And your husband works for Freedom CAD Services Inc.
Mazzitelli: Yes, and he's the Altium project manager as well as a designer for all the Altium work that comes into Freedom CAD.
Shaughnessy: Great. Did you come to this show last year?
Mazzitelli: I didn't, but I came the year before when it was in San Diego where I spoke about ECAD data management at that point.
Shaughnessy: What are you speaking about here?
Mazzitelli: This year, I will be speaking about ECAD/MCAD collaboration and how it relates to Altium 365, which we were speaking about earlier.
Shaughnessy: Right. It does seem kind of strange that with ECAD and MCAD, it's almost like "never the twain shall meet." It's like there are two separate silos even though you're all working more or less together.
Mazzitelli: Exactly. Even the terminology is different. Everybody says that it's the tools that make them different, but it's not really. Because as a board designer, we have terminologies that we don't even think about when we speak to each other, but when I went to PTC and had to communicate with mechanical engineers, they use the same words, but they meant completely different things. So, it's not just collaborating on the data; it's collaborating on the intent. And with the same words meaning two different things, it makes it even more difficult.
Shaughnessy: It's an interesting time in the industry.
Mazzitelli: It definitely is.
Shaughnessy: Thanks for talking to me, Linda.
Mazzitelli: Thank you, Andy.
Share
Suggested Items
08/03/2023 | I-Connect007 Editorial Team
Chapter 1 of 'The Printed Circuit Designer's Guide to... Manufacturing Driven Design' revolves around understanding and acknowledging the progression of DFM which will help us discern between those tenets which are core to successful practices, and those which are holding us back. In MDD, manufacturing process requirements drive design decisions prior to and throughout the design layout process.
07/13/2023 | Andy Shaughnessy, Design007 Magazine
At SMTA Atlanta Tech Expo and Forum, I met with PCB designer Albert Gaines, owner of HiGain Design Services. Albert has been working on some really interesting, fragmented aperture antenna designs, and some of this stuff is really pushing the limits. Albert and I discussed his work with RF, the differences between COTS and custom antennas, and his efforts to educate engineers about what they can and can't do.
05/16/2023 | Andy Shaughnessy, Design007 Magazine
I recently ran into Ryan Miller of NCAB Group at SMTA Atlanta. Ryan is a field application engineer and a columnist for Design007 Magazine who joined NCAB last year. In this interview, Ryan discusses his path from Air Force Security Forces to design engineer, and he outlines what he plans to accomplish at NCAB.