Reading time ( words)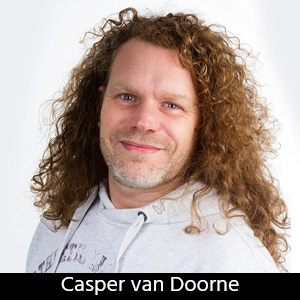 What's in a name? When PCB designer Casper van Doorne needed to choose a name for his service bureau, only one name would do—Doofenshmirtz Evil Incorporated, a villainous name familiar to fans of Walt Disney. At AltiumLive Munich, I spoke with Casper about his company, the class he presented in Munich, and some of the benefits and ramifications of the growth of IoT.
Andy Shaughnessy: Casper, can you give us a little background about yourself and your company?
Casper van Doorne: I've been fiddling with electronics ever since I was young. I'd rip open the television set at home and see if I could fix it, break it, or break it and then fix it; that grew on me and became a hobby, and then the logical choice to pursue for my education. As I graduated with my B.S. degree in medical electronics, I was thinking, "I'm going into electronics." I wanted to be an electronics designer, so that's where I went.
Shaughnessy: Where are you from originally?
van Doorne: I am from the Netherlands. I've lived there all of my life. I went to college in Enschede, which is a very nice place in the eastern part of Holland. It was a fairly good education.
Shaughnessy: What's the name of your company?
van Doorne: I'm a one-man band. The company is called Doofenshmirtz Evil Inc.. It refers to the Disney comic Phineas and Ferb where there is a Professor Heinz Doofenshmirtz who wants to take over the world and make it a better place for himself.
Shaughnessy: That's great.
van Doorne: If you look at my website, you will find it's a little cartoonish, but it's a hook for a house style. I never gave the company name any thought. I thought it wasn't really important. Then, somebody at Altium suggested I might as well call it Doofenshmirtz Evil Inc., and I thought that was a good idea.
Shaughnessy: So, you were using Altium before you started your company?
van Doorne: Yes, I've been using Altium ever since I joined DAP Technology in Nijmegen in the Netherlands in 2006. I think we went over to Altium in 2008 or 2009. They do a lot of IEEE-1394 and AS5643 technology. We had a lot of great high-speed digital products.
Shaughnessy: So, you have been a circuit board designer and electrical engineer.
van Doorne: Yes, in America, it's very common for people to be either an electrical engineer or a circuit designer. In the Netherlands, it's very common that you are the EE and the PCB designer, especially if you're doing very high-end products. PCB design is an integral part of the solution.
Shaughnessy: Can you tell us about your class?
van Doorne: I struggled with Altium Designer, having to set up new projects every time. I think that 80% of the population just re-uses existing designs. That probably is not the way it was meant to be because there are features in Altium where you can apply templates for new files. Altium acknowledges that if ever you want to create a new file or project, you want to do it in a certain format. As a small company, I get a variety of customers who all have different tastes and preferences.
So, what I needed was a way to create projects for specific customers quickly and reliably. That's how I came across automating the process. Once you've made a design for a customer, you can extract the DXP preferences, schematics, and PCBs, and make template files of them. If you do it in that way and use just a tiny bit of self-written software that creates a project file, design workspace file, etc., you can design specifically for a certain customer or even a certain technology within that customer in no time.
Shaughnessy: Almost like a template?
van Doorne: Yes, you use template files. I call them template files, but they are completely stripped-down files, so that the schematic template would be a completely stripped-down schematic as well as stripped-down PCB documents. You use it for a template and then add the layer stack that they like to use because every customer has their own preferences for a PCB manufacturer and they don't share the layer stacks. So, you provide the layer stacks and design rules that they tend to use.
Also, if I am working for one customer, they may specifically tell me to only use through-hole values. Another customer might say to only go down to a 100-micron trace width. If you have that done once for a customer, it's really easy to make a template. The directory is full of these template files that tell you how this customer likes to work. Normally, they want to have the project split into several directories, and they want the output in a different directory as the design and the libraries in different directories. You can also do that in a program—fix that up front so you don't have to click it all together.
Shaughnessy: You're basically facilitating Altium Designer.
van Doorne: Yes. All of the files within Altium Designer are connected in some way. For example, for the parameters that you define in a component, you can put them in your BOM. If you don't have the parameters in your components, it isn't going to show up in the BOM. So, you have to in some way standardize that. Otherwise, you're not going to get consistent results from start to end. That's what I discussed in the last part of the presentation. Then, I did a demo of the software. Of course, we are going to provide the source codes and software, so everybody who attended AltiumLive can fiddle around with it themselves.
Shaughnessy: Is Altium going to adopt this fix that you created?
van Doorne: Altium is not really going to adopt this fix. They're just going to provide the software that I made as a handout. I did advise Altium to make a new project wizard. Currently, if you create a new project in Altium Designer, you're done in two seconds, and you have nothing. What you want to do is go through a brief wizard-like thing—which technology, how many pages are the schematic, which board technology, which design rules, which layer stackups, etc.—and then you have the right product set up for you.
Shaughnessy: What sort of designs are the sweet spot for your company?
van Doorne: My company does a couple of things. I develop new products and consult with people who need help with their electronics. Some people want to have their developments or organization managed for a period of a couple of months, improved, or just looked at. Design-wise, I do anything from toys to power supplies to laboratory test boards—the really big boards. It could be anything.
Shaughnessy: So, you're a design bureau.
van Doorne: Yes. I advertise myself as an electronics expert. I love to do designs, especially where something is really quirky in the way that people need strange functionality or very high performance. If I see added value to me personally, I'd be honest with the customer and say, "I have added value here." If the customer just wants your average four-layer board—your normal garden-variety microcontroller—I tell them to move along. They can find so many other people who are faster and cheaper.
Shaughnessy: What do you see as the biggest challenge as far as technology in our industry?
van Doorne: Regarding the industry, I would say IoT is becoming very challenging in terms of being ultra-low power. It's very difficult to design for ultra-low power. It has been an underdeveloped aspect of electronics for a long time. Right now, we are entering the era of devices that are going to be installed, and they will have to stay there and work for the next 20 years. You have to figure out how you do that.
Shaughnessy: Low power and high speed.
van Doorne: Absolutely, because there is a modem inside that awakens every now and then and starts communicating with the network. It draws a lot of current. It's a big contrast to the microamps and nanoamps that you want to draw in standby. That's one big challenge I see. Of course, the more complex mixed-signal systems are always very challenging where you have massive digital functionality versus analog functionality—especially measuring equipment for audio, for example, which can be extremely challenging to make. Then, a lot of people forget about what analog and discrete electronics are, and how you calculate a simple amplifier with a single transistor or two transistors. People tend to forget.
Shaughnessy: One of our technical editors, Dan Feinberg, covers CES each year, and the main buzz is about autonomous and electric vehicles. Do you ever work on any automotive stuff?
van Doorne: I have worked on some. We have a large industry with many innovators in the Netherlands who try and find ways between an electric car and a bicycle, or an electric bicycle and cars. Let's say you want transportation for a day within a large city like Amsterdam. What do you do? You make some kind of vehicle that is electrically powered but also light enough to be man-powered. I think Holland is a very good place to experiment with these kinds of vehicles. My automotive experience is not that broad, but If I get the chance to do it, I definitely would do so because it's one more experience to add to the bucket list. I see it as a bucket list, not a resumé.
Shaughnessy: What other segments do you see doing well in the European market?
van Doorne: Medical, and especially fields where electronics can facilitate lowering the cost of medical care. This is booming not just the Netherlands, but across Europe. These medical devices might include something that a person can carry with them to increase autonomy and their quality of life, but also has to be cost-effective; think about the difference between needing a nurse to come in eight times a day or being able to just wear an IoT-connected device. After 2020, that's what I foresee.
Shaughnessy: IoT seems to be very confusing to people in this industry. Everyone has a different idea of what that term entails.
van Doorne: Basically, IoT has been around for such a long time. I worked for a company that made devices that monitor silos on farms. When you put in some pig feed or grain and measure how much is in there, and you communicate that via GPRS. It is plainly IoT, but not via a dedicated IoT standard. These units are all battery powered and last for 12 years without any maintenance required.
Shaughnessy: That sounds like IoT.
van Doorne: The Dutch are very keen on their water management. They have a lot of ground-water-level measurements devices. It's a pole sticking out of the ground and a well drilled 10 meters deep but is only two or three inches in diameter. Then you have a device hanging in the well gauging the water level, and on the top, there is a device sending measurements via GPRS or IoT, so that in a central facility in Holland; they know the water levels underground.
The new thing is we are going to make it extra low power, and it will be worth giving simple devices IoT functionality because we are going to make it so cheap and small. For example, the key fob for your car will move toward IoT in the next five to 10 years because that gives you better security than the current versions.
Shaughnessy: It's everywhere. Some Taylor guitars now have a hygrometer that senses humidity changes, and a sensor that measures shock in Gs all synced to an app on your phone. If your guitar is being shipped and gets dropped, your app will get a notification that it just suffered a 2G shock.
van Doorne: You don't really want to know that straight away, do you (laughs)? But that's how things are going to be. Normally, you would include a one-way disposable G-meter in your package, but the IoT things are going to be of much more functionality. IoT will measure humidity, temperature, shock, etc. It's going to be in a small package size, and it's going to run on a battery for a year, which is more than enough to ship a guitar or anything else anywhere. It will be disposable.
Shaughnessy: We'll make this wonderful device, and then we just throw it in the trash!
van Doorne: That's another problem, by the way.
Shaughnessy: We will have even more waste.
van Doorne: If we are really going IoT, we're going to produce a lot of waste that we have to pick out of the normal trash. That might be a new market as well.
Shaughnessy: More companies will fill in the void.
van Doorne: That's what we call progress.
Shaughnessy: It has been great talking to you, Casper.
van Doorne: Thank you, Andy.
Share
Suggested Items
06/30/2023 | Andy Shaughnessy, I-Connect007
Paul Farquhar recently took a few PCB design classes from John Watson, who doubles as a Palomar College professor when he's not working at Altium. John teaches classes on basic and advanced PCB design, and he works to help students land jobs afterward. I asked Paul to discuss what he learned in John's classes, as well as where he hopes to work afterward and how John and the college are working with industry to provide trained designers for the many open PCB designer positions.
05/12/2023 | I-Connect007
Expanding its avenues of content delivery, I-Connect007 is excited to announce the launch of our latest educational product, On the Line with.., available on Spotify, Apple and all the major podcast platforms. In this podcast, we speak with industry experts to get the latest insights and perspectives on the most relevant topics in the electronics industry today.
03/03/2023 | Andy Shaughnessy, Design007
It's been a busy week in our industry. We have a duke's mixture of news and columns in this week's Editor's Choice, starting off with some good news for the American electronics manufacturing industry. In his State of the Union speech, President Biden signaled his support for the CHIPS Act and the U.S. electronics industry, and he promised that Washington would put its money where its mouth is this time. Is it going to happen? Don't bet the rent money.