Reading time ( words)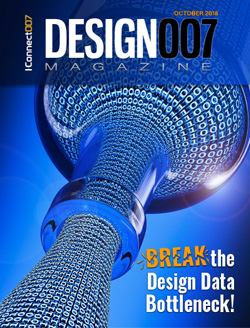 You've heard the stories. Most CAM departments report than anywhere from 80−100% of designs from new customers are inaccurate or incomplete, often necessitating a Friday afternoon call to the designer. What can be done to optimize the data package and make the handoff to the fabricator as smooth as possible?
The October 2018 issue of Design007 Magazine looks at the design data challenges of today, and offers a variety of solutions that may help stop those calls from your CAM guy.
Read the October 2018 issue of Design007 Magazine, now on the Virtual newsstand, and available for delivery in your e-mailbox by subscribing here.
Be sure to download the PDF version for future reference.
Share
Suggested Items
03/23/2023 | I-Connect007 Editorial Team
We've heard a lot lately about the need to identify tribal knowledge within our organizations. How do you know whether an "expert" is sharing documented knowledge or it's just something they learned at their first job during the Carter administration? We asked IPC design instructor Kris Moyer to explain his process for separating the wheat from the chaff, so to speak, in design knowledge. As he points out, a true expert will not be afraid to cite the sources and data sets behind their arguments.
10/20/2022 | Andy Shaughnessy, Design007 Magazine
Supply chain issues are continuing to cause disruptions in our industry, though lead times have dropped from astronomical to merely troublesome. In this interview, Chris Banton, EMA Design Automation's director of marketing, explains how Cadence's software has evolved as designers' needs have changed in the past few turbulent years, including providing designers with component availability data early in the process.
09/15/2022 | I-Connect007 Editorial Team
There's one lesson that all designers have learned over the past few years: Components might be here today and gone tomorrow, so tracking your parts is more important than ever. Any resources that help you keep tabs on your required parts are invaluable in these days of 40-week lead times. Earlier this year, Altium released one such resource: the Electronic Design to Delivery Index (EDDI) report. Assembled from millions of bytes of data gleaned from the Octopart search engineer and the Nexar platform, the monthly EDDI report provides part availability histories going back years, as well as a real-time snapshot of global inventories.