Reading time ( words)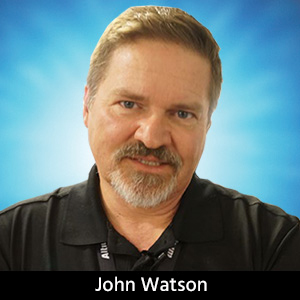 When AltiumLive launched last year, John R. Watson, CID, of Legrand signed up as an instructor. He'll be presenting at this week's AltiumLive in San Diego as well. John leads a team of PCB designers at Legrand, and one of their latest tasks has been beta testing Altium's new Nexus product management tool.
I spoke with John recently about his AltiumLive class, and the state of PCB design. He also discussed a few tricks for designing boards with components that are currently on an 80-week lead time, and why this problem is likely to get worse before it gets better.
Andy Shaughnessy: John, why don't you just give a real quick background about yourself and Legrand, and then we'll talk about AltiumLive.
John Watson: Sure. I'm a PCB designer and I've been in that field for about 20 years now. I came from a background of an electronic technician so I kind of worked my way up the ranks. I've been at Legrand now for three years and we are a building control systems company. We basically concentrate on lighting, shades and different controls that would be in a house or a home or residential or commercial.
I'm their senior PCB engineer, and I have about a group of about 50 designers that I work with throughout the world. Most of those are in China, as well as the East Coast and a few in Europe. They keep me busy!
Shaughnessy: I understand you guys are doing the beta testing for Altium Nexus.
Watson: Yes, it is been a fantastic experience. We started beta testing five or six months ago and we have really opened up some new areas for us in the sense that we basically had to reorganize how we do things. I've been with Altium since 1998, when it was Protel, and I have just grown up with Altium. They have really stepped out of the PCB design area and that includes the Nexus project management system, and I'll tell you, my project managers here are very excited about it. With Nexus, we're able to look at our process, where boards are and where we're at, and different things that are going on. We're able to tell exactly who's responsible for what, where things are getting snagged, and know how to push projects forward. So it's been a real interesting six months for us because we've had to go back and reexamine how we do things and how we should document this.
Shaughnessy: When it comes to project management, how is Nexus helping you?
Watson: In Nexus, we're able to sit down and set up a design flow chart and determine the flow of this project. Basically with PCB design, it is pretty cookie cutter. We go through the same process and we go through the same steps and things like that. So we're able to set down a design flow and it's basically just that: a flow chart of processes. Along the way then, we're able to apply certain forms and certain data to that process. For example, if we're finishing up on the schematic side of a project we can then stop the project and do a design review. That design review can be a form that we put into the Nexus system. We assign certain people certain tasks and they then can electronically sign off on these things through the Nexus system.
So that has really streamlined our design review process. Basically what we can do is we are actually documenting and putting up a kind of a visual view of our process. I work with a lot of different designers at different levels and I always enjoy getting that new designer that says, "I'm a test technician or I'm working in another area but I want to learn PCB design." I love that. The mentoring opportunity is very exciting for me. So this is a great tool that I can sit down with them with and say, "Here is your flow chart. This is your process that you're going to go through and here are your forms, and here are the things you should be looking at on your checklist. Just double-check here and here and make sure everything's okay." I'm using it as a teaching aid for the younger PCB designers that are coming up.
Shaughnessy: It's good to hear you talking about mentoring. I know that most companies have gotten away from mentoring.
Watson: Exactly. I've heard two metaphors: It's like changing the tires on the bus while it's moving or drinking from a fire hose. There's been a lot of discussion in the PCB industry for many years now about how they're expecting probably in the next several years that more and more designers are going to be retiring. They're just going to be leaving and there is going a short fall of designers out there. I'm taking that to heart and I put myself out there for mentoring and writing and different things to try to help and try to mentor the younger group coming up.
Because I find PCB design one of the most exciting new areas in my life. It is just unbelievably exciting. It's always changing. If you look back 10 years ago of the industry and where we've come it is unbelievable. Some of the things that are coming down the pipe are just fantastic to be a part of. The whole technology is just blowing up right now, it's fantastic.
Shaughnessy: With all the 5G and autonomous cars coming online, it's a really exciting time.
Watson: It is absolutely unbelievable. In fact, one of my discussions I'm going to be doing at AltiumLive will be regarding the huge paradigm that's happening right now in the entire electronic industry. We're seeing a real problem of component shortages. It's because of three industries. It's because of the IoT industry. They're expecting to have 2 billion new products into homes in the next few years where everything in the home will be controlled. The other two areas are the mobile phone industry and the automobile industry. Those three alone are really driving a lot of the part component shortages right now. That's going to be kind of a real problem headed for us here in a bit. We're in the middle of it now, but it's going to get worse.
Shaughnessy: Let's say you have a product coming out next Christmas. How do you design for that? We've talked to people who say some of these components are nine months out.
Watson: We actually have lead times for components that are 80 weeks. You can't prepare. One of the things that I'm going to mention next week is don't start with a bad design. You can't design in a part hoping that maybe this part will be available.
I've started seeing some creative things. We actually have our strategy here that we've been using of going off the path of regular, typical design techniques. Meaning this, one of the biggest shortages we're having is with capacitors. One of the capacitors we're having a lot of problems with is the .1 microfarad, the most common bypass cap available. What we're starting to do is if we can put it into our design to be flexible on values, voltages, tolerances, anything we can; we're getting it out of that norm. We're getting it out of that mainstream value and parameters and we're seeing that we're actually able to find parts that are out there that are not in that mainstream of parts that we have that are out there that are available.
Share
Suggested Items
05/16/2023 | Andy Shaughnessy, Design007 Magazine
I recently ran into Ryan Miller of NCAB Group at SMTA Atlanta. Ryan is a field application engineer and a columnist for Design007 Magazine who joined NCAB last year. In this interview, Ryan discusses his path from Air Force Security Forces to design engineer, and he outlines what he plans to accomplish at NCAB.
05/16/2023 | Andy Shaughnessy, Design007 Magazine
I recently spoke with Fabian Winkler, product marketing manager for Altium 365. He and guest speaker Casey Sirotnak of Forrester are co-hosting a free webinar on May 17 titled "Unveil the Total Economic Impact of Altium 365." The webinar will include data from a Forrester case study that examined the economic benefits of using the Altium 365 environment, such as the number of hours saved per designer per year. I asked Fabian to discuss the focus of the webinar, who should attend, and some of the benefits of this environment that allows ECAD and MCAD engineers to collaborate seamlessly.
05/02/2023 | SEMI
Electronic System Design (ESD) industry revenue increased 11.3% from $3,468.2 million in the fourth quarter of 2021 to $3,858.7 million in the fourth quarter of 2022, the ESD Alliance, a SEMI Technology Community, announced in its latest Electronic Design Market Data (EDMD) report.