Reading time ( words)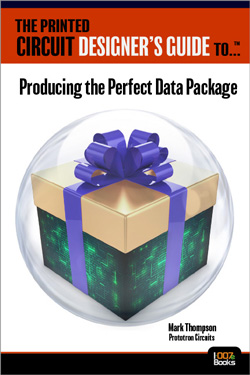 Mark Thompson, engineering support and CID+ at Prototron Circuits, sees thousands of data packages each year. He has seen the best (and the rest) and he understands that many data packages are far from perfect. Errors and inaccuracies slow the process down because the CAM department has to correct their data package or ask customers to clarify their intent. In the quick-turn prototype business where people pay for time, a slowdown on a three-day turn can be a disaster. I recently sat down with Thompson to find out more about his new book and discuss the quest for the perfect data package.
Dan Beaulieu: Mark, thanks for speaking with me today. First, tell me a little bit about yourself.
Mark Thompson: Always a pleasure to talk with you, Dan. Prototron Circuits has been in business since 1987, but I joined in 1993. It's hard to believe it was 25 years ago. My background is from Silicon Valley in the 1980s. I started as a driller and worked in imaging for a few years, but for the vast majority of my time at Prototron, I've focused on signal integrity and doing calculations and dielectric stackups. We all wear a few hats, so I can go from previewing data before release to CAM and answering any customer questions that may arise.
I've also written a monthly column called "The Bare (Board) Truth." I-Connect007 approached me many years ago and asked if I could write a column dedicated to PCB fabrication, since they already had excellent coverage of design and assembly. I was surprised at how well received some of my initial columns were. I think my column has done well because I will not write about anything I am not confident about; the information is always the truth as I know it. Recently, I have been more involved with site visits to educate our customers about what is needed to make the product they want and minimize costly revisions.
Beaulieu: With your experience in mind, tell us about your new book.
Thompson: The book is called The Printed Circuit Designer's Guide to… Producing the Perfect Data Package. It provides guidelines for necessary minimum files to be able to fabricate a PCB and why fabricators need them.
Beaulieu: Why did you think this book was needed?
Thompson: For years, the PCB fabrication community has been asked for increasingly faster quotes, but the incoming data sets provided by some customers were rife with questions and inconsistencies. Sometimes data sets were completely missing essential files, all of which had to addressed before quoting and delayed the quote process. The book presents a complete list of necessary files and even discusses how to select a board class based on reliability needs. I also offer some tips and tricks to streamline fabrication.
Beaulieu: Why is Prototron particularly interested in receiving perfect data packages?
Thompson: As I mentioned before, if we can get a data set that is complete and has no conflicting information that requires additional clarification before quoting, we can quote the job faster. It seems counterintuitive that a customer would be frustrated by the questions being asked by fabricators, which stem from conflicting or missing information. There is a fine line between due diligence and being a pest.
Beaulieu: Can you give me some examples of the type of mistakes you have seen in customer data packages?
Thompson: Heck, yes. Missing NC Drill files, drawings, plating statuses, count discrepancies, impedance callouts for traces that do not exist on the data, etc. I could go on and on. Many of these issues could be eliminated or at least minimized by a thorough design review of the output package provided to fabricators.
Beaulieu: Could you give us some highlights that readers can look forward to in the book?
Thompson: The book discusses the necessary files for a great output package for PCB fabrication, and simple things that can minimize the time spent in a fabrication CAM department, such as IPC netlist errors, how to format files consistently, etc. Additionally, I provide a checklist that can be used to ensure the customers' output package is complete.
Beaulieu: There is a lot of talk about this technology right now. Why is it so vital at this time?
Thompson: As fast-turn and prototype folks, I can only tell you that we've seen a lot more space and flight applications, medical device advances, and RF devices. All of this should make perfect sense, considering how vital our tables and phones have become.
Beaulieu: Who should read this book?
Thompson: Engineering, mechanical, and layout personnel should read it, as well as PCB designers, contract manufacturers, and anyone else who is creating the output data set for fabrication.
Beaulieu: Are you optimistic about getting better data packages in the future?
Thompson: Without a doubt! The millennial generation of designers and engineers are hungry for additional help on what can improve the whole process from design inception to final assembly and product support.
Beaulieu: Once again, congratulations on this effort, and on behalf of the industry, thank you for writing this book. It sounds like we certainly need it.
Thompson: Yes. Thank you for your time.
Click here to download your free copy of Prototron's new eBook 'The Printed Circuit Designer's Guide to… Producing the Perfect Data Package' today!
Share
Suggested Items
08/17/2023 | Chris Jorgensen, IPC
The e-textiles industry recognizes IPC as a leader in standards development for the greater electronics industry, and in 2017 asked IPC for assistance to develop global standards for materials, design, and manufacture of e-textiles. Volunteers quickly adapted to IPC's processes by integrating themselves into the fabric (pun intended) of IPC's global standardization efforts.
08/03/2023 | I-Connect007 Editorial Team
Chapter 1 of 'The Printed Circuit Designer's Guide to... Manufacturing Driven Design' revolves around understanding and acknowledging the progression of DFM which will help us discern between those tenets which are core to successful practices, and those which are holding us back. In MDD, manufacturing process requirements drive design decisions prior to and throughout the design layout process.
06/29/2023 | Andy Shaughnessy, I-Connect007
Fabricators are fairly vocal about the design issues that they encounter, especially with brand-new customers. They are, after all, the next step in the process. But we don't hear as much about design issues from EMS providers. This month, we asked experts from the PCB assembly segment to share their thoughts about design challenges that affect technologists on the EMS side.